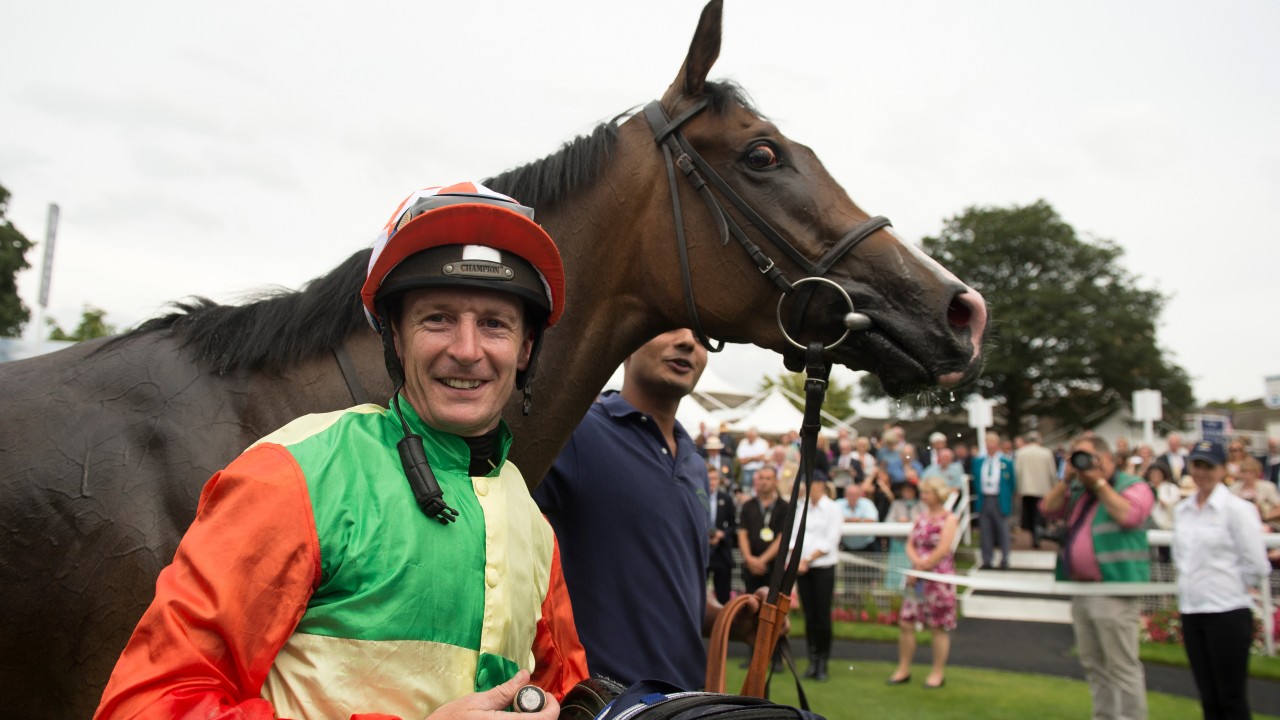 Jockey Steve Drowne ended his glittering 27-year career on a high at Lingfield on New Year's Eve, as the 46-year-old partnered Met By Moonlight to success on his last ever ride.
"They say nice guys don't win, however Steve must have misplaced the script. One of the most respected and liked jockeys in the weighing room"
Drowne has ridden over 1400 winners, including six at the highest level and 11 coming at the Olympics of flat racing, Royal Ascot.
Drowne's talent in the saddle has taken him all around the world, riding winners in Germany, Switzerland and France, but like so many jockeys, Drowne came from humble beginnings.
Drowne grew up on a farm in Devon and despite his Grandad and great uncle being point to point jockeys, he had no big dream of being a jockey himself.
"When I left school it was harvest time, it was like Seven O'clock till 10 O'clock at night and it nearly killed me, back then I was under five foot and about four and a half stone, I just couldn't keep up with the work and I thought I'm not sure about this, it wasn't like I ever thought I want to be a jockey, I always rode ponies and people kept saying to me you should be a jockey you're small enough and that kind of stuck with me.
"Living down there I had no contacts in racing and knew no one, I saw an advert in the Daily Mail for the Racing School, I thought I will just apply, I got in there and left home at 16 and never went home again."
After a brief spell with Chuck Spares, Steve worked for Richard Holder who provided him with his first winner, Sigwell's Gold in 1990, but it wasn't until Steve moved to Ron Hodges that his career began to take off.
It was for Hodges that Drowne rode the talented sprinter, Hard To Figure, who he rode to success in the Great St Wilfred in 1993, Drowne's first taste of a big win.
Since then Steve has gone on to land some of the biggest races in Europe, including the July Cup, Nunthorpe Stakes, two wins in the Prix de L'Abbabye and also wins at Glorious Goodwood.
However the 2008 Royal Ascot meeting would most likely be the best week in Drowne's lucrative career, as he rode three winners on the biggest stage, beaten in the meeting's leading jockey's title only by Johnny Murtagh, who had the backing of the mighty Aidan O' Brien.
It is the July Cup that Drowne highlights as his greatest success though.
When reflecting on his success, Steve admitted; "I have never really thought about it, for a long, long time I never actually considered that I had made it, it was probably a good thing because it keeps your feet on the ground."
Steve's talent saw him travel to Switzerland on many occasions to ride on a frozen lake at the famous, St Moritz racecourse.
Reflecting on his time at St Moritz, Steve said; "The first time I went round there it was horrible, you're not use to it and round the turns you think are they going to slip up. The first time I went round there he had never been round there and they're horrible, I remember I had three more rides and I thought as soon as these are over I'm done, I'm never coming back here again. Then the next two won and the other one was second and they went round like they were on roller-skates, they went round brilliant.
"I don't know whether it is because your sort of like, oh I'm not sure about this but you don't half get a buzz from riding a winner round there. I would love to have won their big race, the Grand Prix, I got beat a neck in it one year, that's the nearest I got."
As well as the Grand Prix Steve also said he would like to have won, "A few more big races, the Derby or a Classic would have been nice, but unless you ride for one of the big Arab owners that is getting harder and harder. I certainly have no regrets anyway."
One thing is for sure unlike a lot of retired sportsmen, Drowne won't be kept awake thinking about what he didn't win.
Despite all the success, the latter stages of Drowne's career has seen some bleak times.
2012 saw Drowne collapse in his garden and when the effects of glandular fever were misdiagnosed as a heart issue, he had his driving license withdrawn and subsequently was not allowed to ride.
"The year out did it, you get to a stage in your career when you know it's going to start to dwindle, there's young lads coming through and everyone wants a change, you know it's going to start going downhill but the trouble is that year out just put me into freefall.
"I might even be still going now if it wasn't for that year off, but financially I did all my savings and everything to just survive for the year."
After a year out of the saddle Drowne produced one of the great comebacks when riding Jwala to victory in the Nunthorpe, providing him with one of his biggest wins of his career.
The sweetness of riding such winners will be something that cannot be replaced for Drowne, but it is the daily antics of a jockey that he will most likely miss the most.
Such antics of which Drowne recalls; "The funniest thing was one day at Newbury, Jimmy Quinn kept going on so we stripped him off and chucked him out, it was a fire door so we closed it and he couldn't get back in, he had to run all the way through the betting hall out the front of Berkshire stand and back round into the weighing room without a stitch on! That was pretty amusing."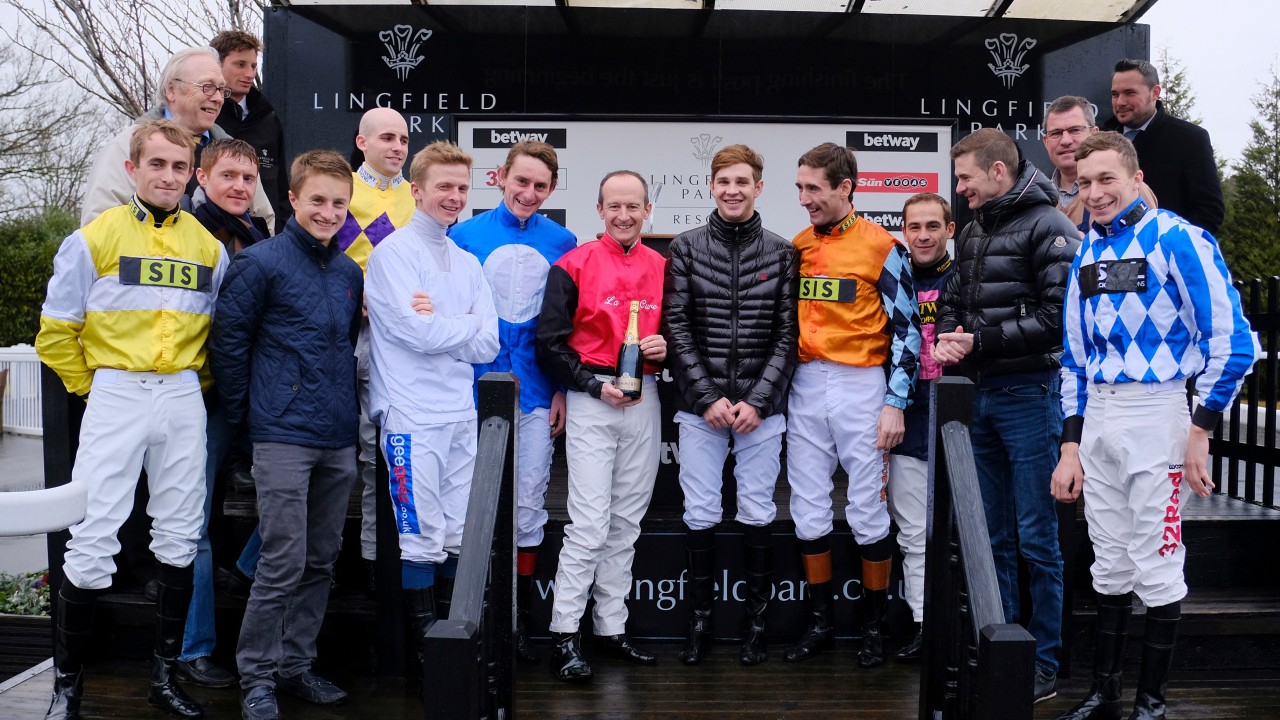 Drowne will now embark on his next career as a steward, in which he will spend the next year training, with already having the respect of the jockeys and also bringing common sense to the steward's room, Drowne is likely to make his next career a successful one as well.
Article by Mike Drowne