After our engagement I mentioned to Reah there may be a few small cut backs for a month or two after my fright at the price of diamonds. This was of course laughed off. Valentine's Day fell on Wednesday and as we tucked in to our Big Mac meals that evening, she realised I wasn't joking!
Another bunch of Irish point to pointers were sold in Cheltenham's February sale on Thursday. Bold Plan the kirkistown winner I mentioned last week was knocked down to Evan Williams for £195,000. Petit Mouchoir won this same maiden back in 2015 so this race has a history of throwing up a good one. Two other debutant winners both surpassed the 400k mark which is astonishing considering they won galloping around a farmer's field.
Throughout his career, Sire de Grugy was a Big favourite of mine. Himself and Jamie Moore had a great partnership and their entrance to the parade ring after winning the 2014 Queen Mother Champion Chase was one of my favourite moments in racing.
On Saturday, with a similar feeling I almost found myself shouting at the TV as Waiting Patiently won the Betfair Ascot Chase in great style. Formerly trained by Malcom Jefferson it was not only an extremely fitting winner but super impressive too, I thought Cue Card put in a banging performance jumping excellent and had most of them flat out early on. Beating an on-form Cue Card surely is a solid benchmark and must make this an exciting individual. The fact he's now trained by Malcolm's daughter Ruth is an added bonus and although it contradicts my views on Ire V Britain at the festival, I think I could make an exception for this boyo.
Blacklion, one of my old mates from my days at Loughanmore has gone on to be a great servant. Comparing him with other staying chasers, anything he lacks in size my goodness he makes up for in heart. 11st 12 however was just too much in Saturdays Grand National Trial at Haydock beating him into a tired second. He goes into the Grand National 10lb higher than when finishing 4th last year. This seems a task, but he's proved he handles the fences better than most and that's bound to be worth something.
Bryony Frost continued her good run on Black Cordon to win the Reynoldstown Novice Chase. I am big believer that confidence has a huge roll in this sport and watching Bryony riding down to a fence is a good example of this. She's on the crest of a wave and with Black Cordon likely heading for the RSA at the festival, I can see his jumping playing a part in a big run.
If I was pressed, obviously racing is my passion but I'm also a massive boxing fan. Throughout the year our living room can be like the local pub with our friends all packing in to see some of the biggest fights. Chris Eubank jr stepped in with the big boys and came up well short on Saturday night against George Groves. The majority of the fight was a game of tactics and I thought Groves had his spot on.
The next few weeks sees some mouth water nights of fighting and hopefully Tyson Fury's return isn't too far away.
"Since my fall in 2013, I've been very lucky to have support from many different areas"
Donal Smith and the guys from the Minerstown Tavern have ran a Cheltenham preview night for a number of years now for my trust and on the 3rd of March 'Pints after the Points' will take place after racing at Tyrella.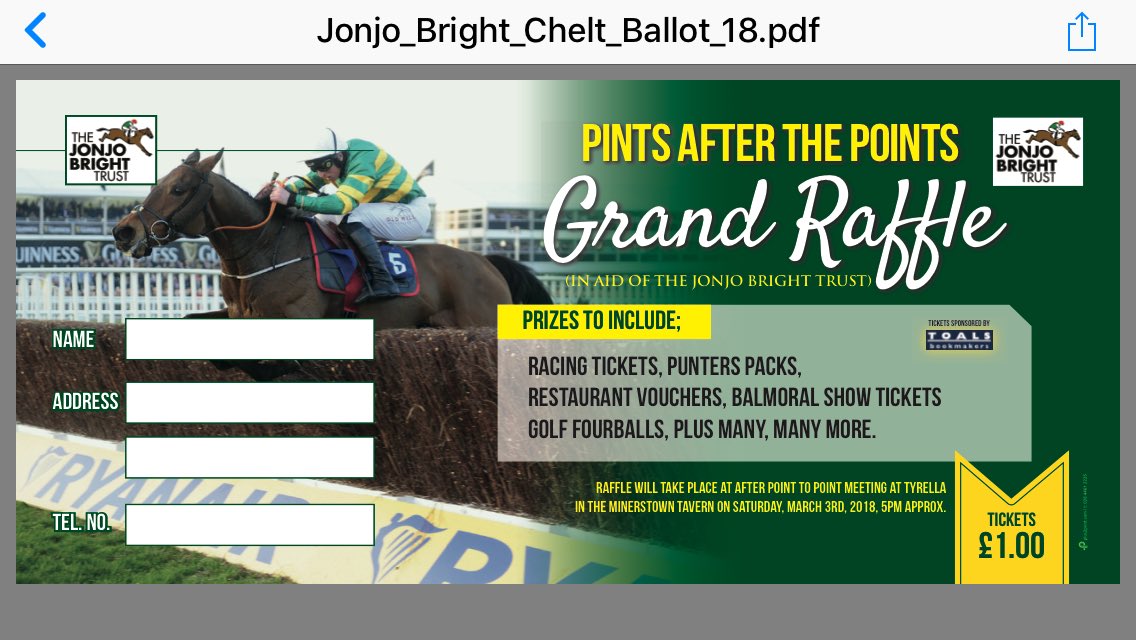 It amazes me every year the effort Donal puts into this event. I know he doesn't like me singling him out, but he deserves a massive amount of credit and should definitely have a job in marketing.
"I truly believe that because of support such as this, things have been made a lot easier for me than others in a similar situation".