'When your horse wins' drink tea, when he loses drink champagne, that way you get to drink more champagne' is the philosophy of Sarah Dawson's horse Racing club as with horse racing there are generally more bad days than good days but when the good days come really enjoy them.
We recently caught up with ambitious and self-driven horse racing trainer Sarah Dawson who trains race horses on the outskirts of Banbridge in the village of Annaclone to be precise.
Sarah Dawson was born into a family of horse enthusiasts and for as long as she can recall horses were always a key factor in her life mainly because her father the late Frank Murphy, a well-respected and very astute horse dealer from Hiltown, who regularly took Sarah to all the big horse racing festivals throughout her younger life and a career within the sport was always on the agenda she joked to us 'I suppose it was in the blood'.
She left school and worked with hunter chasers, eventers and show jumpers though it wasn't until she moved to England she started to train and rode a couple of point to pointers in Dorset and really got hooked on the wonderful sport. Sarah then returned to Ireland in 1996 and took the gamble and decided to take out her own horse training license in 2009 she never looked back on her decision.
Currently Sarah has 12 horses in training alongside a couple of point to point horses with some of her horses mixing it up with the Flat racing & National hunt, she adds to the conversation 'I also pre-train for other people and can take up to 24 horses, so definitely keep me in mind'.
The day in the life of a horse trainer is definitely not your ordinary 9am to 5pm job, the normal mornings she starts work with the first feed at 6.30pm and the last feed at 9.30pm , though her hardworking staff start generally at 8am with the general duties which includes mucking out and exercising the horses then each lot are washed off ,groomed and rugged up and on most days ready to be finished by 1pm, except on race days when there is far more to prepare but they are willing to knuckle down to get the results.
Sarah then states to us 'In the short time I've been training, it has become more difficult to buy the young horses you would like to buy, due to the demand at the top end of the market. Which has a knock-on effect for the small trainer to remain competitive, but we have had plenty of success and we are always putting our horses interests first and the results speak for themselves at the racecourse.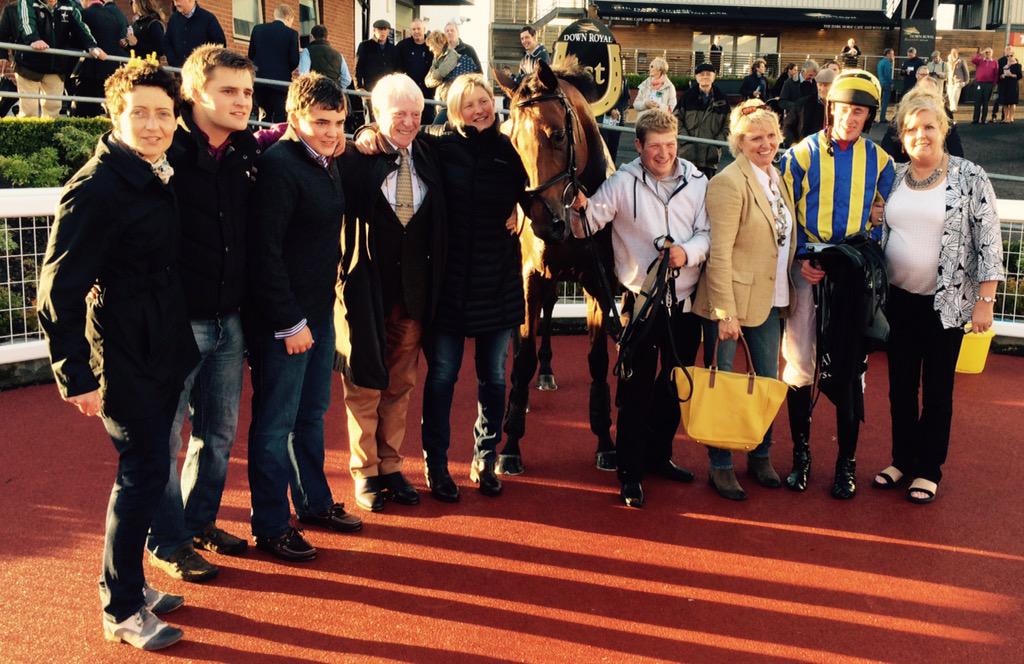 In 2011 & 2012 season, capable trainer Dawson had winners at the Galway festival which was a great achievement for such a small yard but she stated to us she gets more satisfaction from a local win at Downpatrick or Down Royal. One of her favourite victories to date was when her horse Degenerous won at the Down Royal racecourse in Lisburn she stated to us 'I told the jockey Roger Loughran to come back with no petrol in the tank, and if she didn't win I was giving up, because I knew I couldn't have her in better fettle, but luckily she won'.
 She then attributes her success and achievements to her good staff, which includes her children Patrick, Edward and Sally, who put a lot of graft in working at the yard helping her in all aspects and then a couple of valued local riders come in when needed, including amateur jockey Noel McParlan whose opinion she values very much and is a key part in her winning system and is grateful for all his assistance.
 We then put the question to Sarah which horse would you advise our readers to keep their eyes peeled for and she replied with a happy grin '4-year-old 'Central Court' who will hopefully run in a point to point in April/ May, has plenty of ability and definitely worth watching.
Sarah then adds 'if anyone is interested in getting involved in horse racing without spending the big money join an affordable racing club. 'We run one which involves two horses one of them flat racing and the other one a national hunt racer, there are some great days out to be had including social events like breakfast on the gallops and the excitement of your horse running on the racecourse and possibly winning. The main Club philosophy is "When your horse wins' drink tea, when he loses drink champagne, that way you get to drink more champagne."
To round the chat off with this genuine horse racing trainer going places fast, we asked her how she winds down from the horse racing and what her hobbies are, she told us "I don't have much time for hobbies with busy workloads but when I do I like to attend live music around the local area and I really look forward to Sunday lunch with friends and family ,'I do a good roast beef dinner ,so I am told".