PETE INGRAM'S DAY AT GOFF'S
If I could rewrite a verse of Kipling's Poem "IF" to suit yesterday it would Read "If you can fill your day with one day of wonder and satisfaction that gave you ultimate peace of mind than yours is the world and everything in it my son" Such is the sales Paddocks on Town Moor at the end of May each year and yesterday's renewal of the Spring store sale didn't disappoint.
The Sales Paddocks are an entirely different atmosphere than the hurly burly of race meetings, though it provides a dichotomy in that despite everybody looking relaxed, eating, drinking and renewing old friendships from both sides of the water, there is a tension below the surface. This isn't a place where people come to have a fiver bet and enjoy a day out, minimum spend here will set you back thousands in purchase and training fees, it's a day for dreaming of what might be, its day for admiring the best pedigrees on offer in the National Hunt World and dreaming of festival glory on the battlefields of Cheltenham, Aintree, Fairyhouse and Punchestown.
It's the ultimate bet and the beauty of it is you could spend £200,000 and get nowhere and spend £20,0000 and live the dream. In essence, Horsemanship, a great eye and feel for a horse and a pedigree, a huge slice of luck and nerves of steel…If you have all them you might just be a Bloodstock agent.
Sadly, I had a couple of withdrawals from my list in the Preview of the sale but of the remaining lots that made my list they certainly didn't disappoint either in looks or price, in fact I would go as far as to say those who went at the cheaper end of the list may well end up as bargains IMO but only will tell on that score.
Let's start with the top end of the market.
The top 6 lots were sold from a range of 140k to 68k and of the pick of those I was most impressed by two of them. Top lot went for 140k and was bought by Mags O'Toole for Gordon Elliott. A Gorgeous son of Kayf Tara, lovely mover, covers a lot of ground in his stride and took everything in around him without so much a turning a hair. It was easy to see why he was so attractive not only to the Irish master trainer, but to a series of high bidding underbidders who are not used to losing out on one they really want. No doubt we will see him in the Autumn in an NHF race. Given his size and precocious nature the likes of Naas and Navan won't be daunting to him and whilst I don't know who he was bought for, it wouldn't surprise me in the least if he joined the O'Leary battalions in Elliot's yard.
Lot 99 A daughter of Presenting out of a Golan mare and was purchased for 68k by Tom Malone to go into training with Paul Nicholls, one of the smartest looking filly's in the sale and I am ashamed to say I missed her when gutting the catalogue as she would have defiantly made my list. A superb looking and well-presented chestnut filly and very typical of the stock her sire throws up, confident, even temperament, alert and taking everything in around her. Lovely stride and free flowing movement. Frankly she is a bargain at 68k, If your writer was bidding and had the funds I would have gone higher to get her given the opportunities open to mares now and when the time is right she has the perfect pedigree for breeding, so in essence very well bought, in my opinion, at 68k. When looking at Nicholls NHF mares next season lookout for this pedigree when she is named and get her in your tracker
Now to my offerings in my review
Lots 58 and 74 were sadly withdrawn so at 9 o'clock sharp yesterday morning I descended on the barns with my small list and spoke to as many of the connections as I could and here is what they had to say and the subsequent results of their sale
Lot 36 is a Court Cave gelding out of a Definite Article mare who is a well-built gelding, good model, typical of his sire in that he looks a stayer in the making and a long term project, has obviously done very well back on the farm, good temperament, stands over a lot of ground but needs to fill his frame yet. Now this is very interesting because although he only went for 30k he was bought by the Doyle brothers who run the famous pointing yard in Ireland which produces so many great horses from the point field. Don't be surprised at all if this lad turns out in an Irish point p2p after xmas, puts up a bold show over 3 miles in the mud and within a week or two is star attraction at a boutique sale at Cheltenham Aintree or Punchestown. He has the pedigree and the looks to do just that and is well bought at 30k, Monbeg will be looking to make a nice profit on this lad down the line.
Lot 125. Now let me say straight away, this for me was one of the nicest fillies Ive come across at a sale for a long time. Superbly presented by Coolamurray Stud in Ireland.
A daughter of Getaway out of a Supreme Leader mare, she is a big filly standing at around 16h and yet to fill her frame, still up behind, sure sign there is more growth to come.
The consigner, who spoke frankly about her future, is convinced she will grow to 16.1h or a fraction more. She has 3-mile chasing written all over her and in my opinion she has been extremely well bought at 26k by North Yorkshire trainer Phil Kirby.
I shall be more than happy to travel to see this filly and see how she develops when she hits the track.
She has a cracking temperament and with all the noise and the comings and goings around her, she was lay down fast asleep when I first saw her, had not turned a hair. Which, for a filly first time out in the big wide world was remarkable.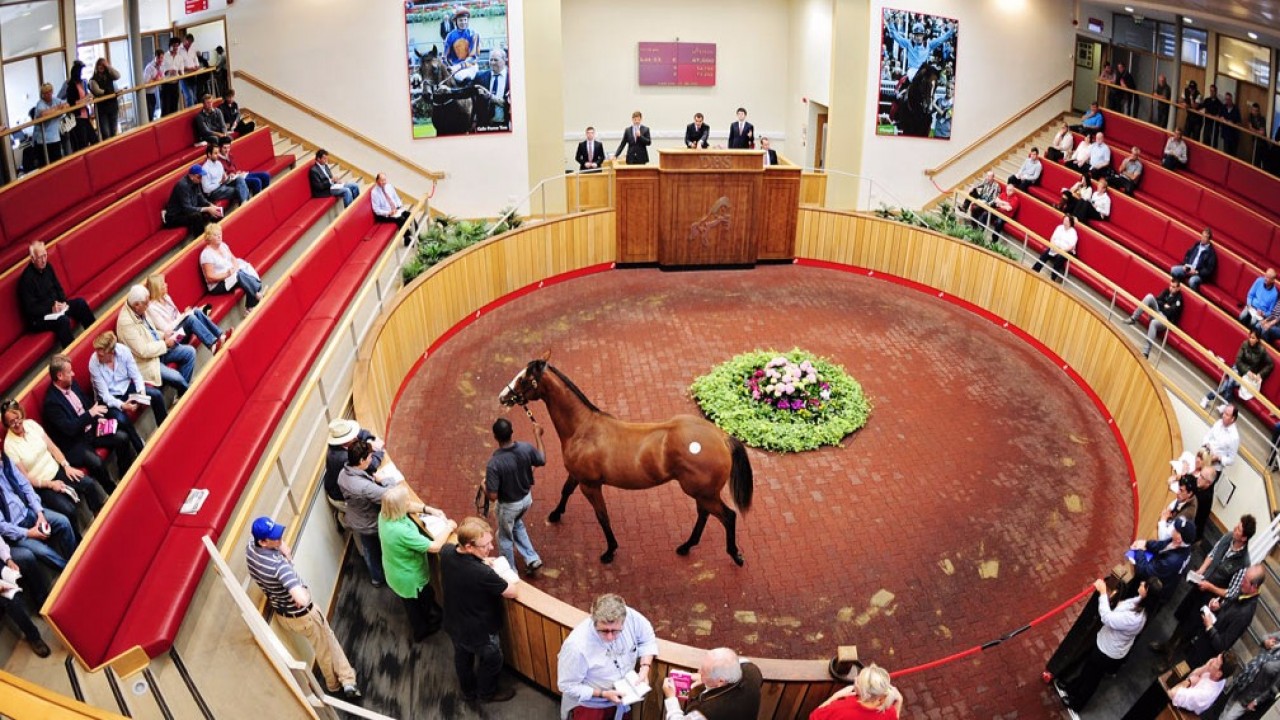 The Filly will have no problem handling training or the tracks when it comes to it. She was incredibly relaxed in the ring and showed very well.
Given her pedigree she will in turn make a cracking broodmare one day but given her temperament looks and pedigree and the superb way she was presented by Coolamurray.
I've no doubt there will be some interesting times ahead and much fun to be had with her.
Lot 166 A beautifully presented filly by Presenting out of a Definite Article mare from the family of Paddy's Return and Whoops a daisy…..A substantial Bay Filly, stands over a good deal of ground, looked exceptional in her coat, good mover, like a lot of Presenting's floats over the ground and it isn't a stretch to imagine her being an effective galloper over a trip of 20f plus. Very relaxed, never been off the farm since birth but you wouldn't know it, taking everything in her stride, showed very well in the ring and was well bought by Henry Daly for 38k..One for tracker when named so keep an eye on Daly newcomers in the autumn for this filly.
Lot 226 and 261, a chestnut gelding and a bay filly both by Black Sam Bellamy.
Now I have put both the lots together as they came from the same consigner, Shade Oak Stud. This reason I have done this is because the stud's representative gave me a very interesting insight into Black Sam Bellamy progeny which applied in particular to these two lots but just as importantly for us to the progeny in general.
The opinion offered was that generally speaking, the sire produces horses which are slow to develop physically but equally are mentally "on the ball" and very mature in the head from a young age.
Now usually with that combination you would expect a crash and burn some stage but his opinion is that whilst they are mentally strong you can give them any amount of work and they will take it but more importantly "still be there mentally" when they come through it.
Generally, they tend to be tough as teak and be strong enough mentally for whatever is thrown at them…In essence the conclusion being you won't see the best of his progeny till 7/8 years old but if they do mature physically you are guaranteed the horse that will switched on mentally and won't have had enough.
I thought this was a very interesting insight from a source which understands this pedigree more than anybody else, whether the reader agrees or not you now have the view of the stud that stands the sire and should be borne in mind when thinking of backing any of his progeny down the line.
I hope you have enjoyed my review of this sale, on the Goffs Land Rover Sale in Ireland next in June for the store sale there.
Pete Ingram (aka National Hunt Pete @BumperToJumper… please give me a follow