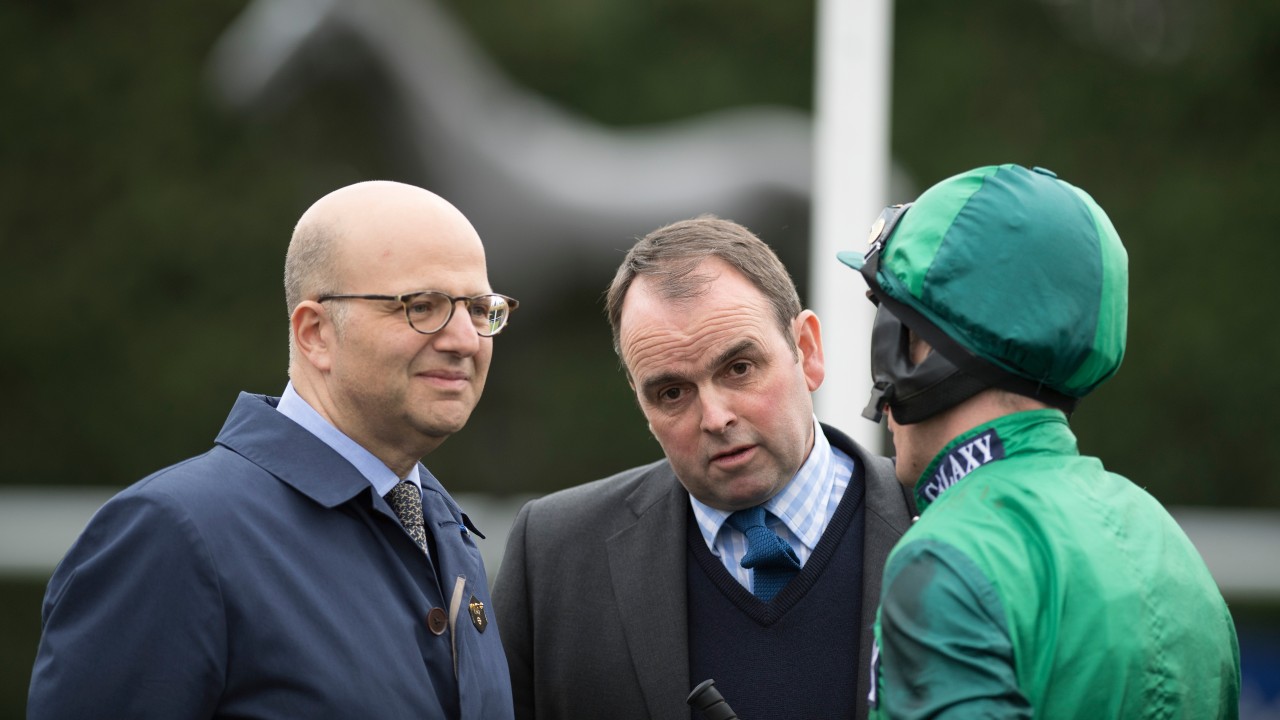 The double green colours of owners Simon Munir and Isaac Souede are common place in British and Irish national hunt racing and go from strength to strength year after year. Darren Carson
Their string seems to expand annually with top class horses brought over from France where they also have runners in green and red diamond silks. Together with Daryl Jacob as retained rider, Anthony Bromley as racing manager and numerous top class trainers, they are steadily becoming a more formidable force. To explain why I follow them closely and explain why I have an affinity with them, I first have to explain where my affinity with horse racing began…
Growing up I lived just down the street from my Grandparents and spent a lot of time there. My Grandfather, a massive horse racing fan and never out of his local bookmakers, probably more to their delight than his, would always have racing on the TV at home. Growing up I was a keen footballer and had little interest in racing, it's just a bunch of horses running around a field according to my long suffering Granny who never got to watch anything she wanted on the TV, yet still read the TV magazine from back to front every Saturday in hope rather than anticipation. Years went on and I got to an age where betting became common on a Saturday with my football teammates. At this stage and on most Saturdays my Grandfather would say "I fancy this one or that one in the BIG race" as he'd describe it. I'd later learn this would mean the biggest handicap or the best grade one on that day, but at the time it meant little to me. The interest was non-existent.
Fast forward to 2011 and I'm in my Grandfather house on an April afternoon and as usual the racing is on. A certain Frankel just happened to blow a 2000 Guineas field away from the gates and in doing so blew me away too. The way he lengthened away from the field that day, with complete disregard for what any other horse in the race was doing was the catalyst for my racing obsession. That winter when the national hunt season began, I really caught the bug and I have to admit it, national hunt became a preference for me over flat racing after a season or two with stalwart handicappers and top class graded horses coming back year after year to slog it out over marathon distances.
Off track there (apologies) but back to the reason behind choosing Simon Munir and Isaac Souede silks to follow. My Grandfather, when it came to betting was very much a follower of certain trainers rather than statistics and form, very much an old fashioned gambler. He'd say I'm backing all of Mark Johnston's runners today…I'm following all of Nicky Henderson's runners today. Even when I was following horse racing and taking a real interest, I still didn't really take heed of any of his musings. The first and only time I heard him say about following a jockey rather than a trainer made my ears perk up though…it was a jockey by the name of, you guessed it, Mr Daryl Jacob. The reason given was he's a great judge of a race, puts horses in the right positions at the right time and he rides for these new owners who have some very good young horses coming through. From then on, I decided I'd keep a close eye on their runners.
The majority of the time my Grandfather would get 1 or 2 winners in a lucky 15 using his method so nothing to cheer about. Of course, on the odd occasion he'd strike it lucky and I vividly remember on one occasion him getting my mum to drive him to the local Ladbrokes with a plastic bag to collect his winnings. It worked…but not very often! When he did have a winner, you could guarantee as the horses nose passed the winning post, especially if it was in the BIG race, my phone would ring, Hello I'd say, the reply wouldn't be hello…the reply would be, Darren…I had that one.
Numerous times over the years we'd be cheering on the double green silks, none more so than when Top Notch and Peace and Co finished first and second in the 2015 Triumph Hurdle, but I decided only last year to put more time and effort into following all their runners and riders in Britain and Ireland under the twitter name @DoubleGreenFan1(give it a follow for all related news articles and information I can get my hands on). I was following the horses on a personal level so thought why not give other people the option of seeing where the horses are running, update them on any future targets and generally talk about all things double green. The owners seem to nurture young horses with a view to a long term target, so it'll be good to see how some of them develop and progress over the years. The team is constantly expanding with horses spread out across some of the top trainers in Britain and Ireland, contesting all the top races and are sure to be well represented at the Cheltenham festival again so there's plenty going on to keep me on my toes.
As far as twitter pages go the following is admittedly very small, I have no experience in digital media or making videos etc but as long as it provides fans alike with up to date information about the double green runners and any pictures I can get while at the races, I'm happy. Maybe in time it will expand into much more, who knows.
My Grandfather is unfortunately no longer with us, passing away in March 2017 but without him I wouldn't have become a massive horse racing fan. He followed Daryl and the double green silks when he was with us so I will continue to follow them whether that be from my living room or the track side whenever I can.
Writing this has made me think, what I would give for a one more phone call from him saying Darren…I had that one.