"If you just keep your head down and work, sooner or later everything else takes care of itself".
This is the ingenious mindset of meticulous racehorse trainer Ronan McNally; who runs his small but capable operation merely a few miles outside Newry in Armagh City.
Most recently McNally hit all the headlines for the massive gamble landed in England with The Jam Man in which the six-year-old was punted from prices as big as 25-1 overnight into 9-4 favourite, and he duly rewarded his backers by putting a string of well-beaten, unplaced efforts behind him with a seven-length victory in the Handicap Chase at Southwell racecourse.
Speaking of the gamble McNally insisted;
"All this 'big gamble', it's a bit of a joke," he said. "(People) putting on social media about tipping up The Jam Man – the whole thing ballooned. I think it's all blown out of proportion; It costs you maybe £800 to get here – so why else would you come to England, winning is my only reason any of my horses are entered in any given race".
Since then The Jam Man has won another two times. Three wins in the space of a fortnight which is some achievement by any trainers high standards.
Now, The Jam Man is now rated 139 in Britain over hurdles and fences, so a step up in grade is inevitable. McNally, who owns as well as trains the gelding spoke exclusively to us;
"I'm blessed to own the Jam Man, two friends of mine owned him in Co. Cork, sadly one of the lads Johnny Connors died in a car accident aged eighteen. Ciaran Fennessy the other lad that owned him asked me if I'd buy him because he'd love me to train him for sentimental reasons, we were all great mates. But at the time I was building my house and I just didn't have the spare money lying around, so I asked another good friend of mine who was looking a horse at the time to buy him, he agreed that when I got a few pound together I would have the option to buy him of back; that's just what I did.
Every time the Jam man runs, he's running with Johnny Connors up in heaven by his side and I really hope that since the horse is doing so well it brings happiness and joy to all Johnny's friends and family. It was a devastating time when he passed away for everyone who knew this happy-go-lucky gentleman".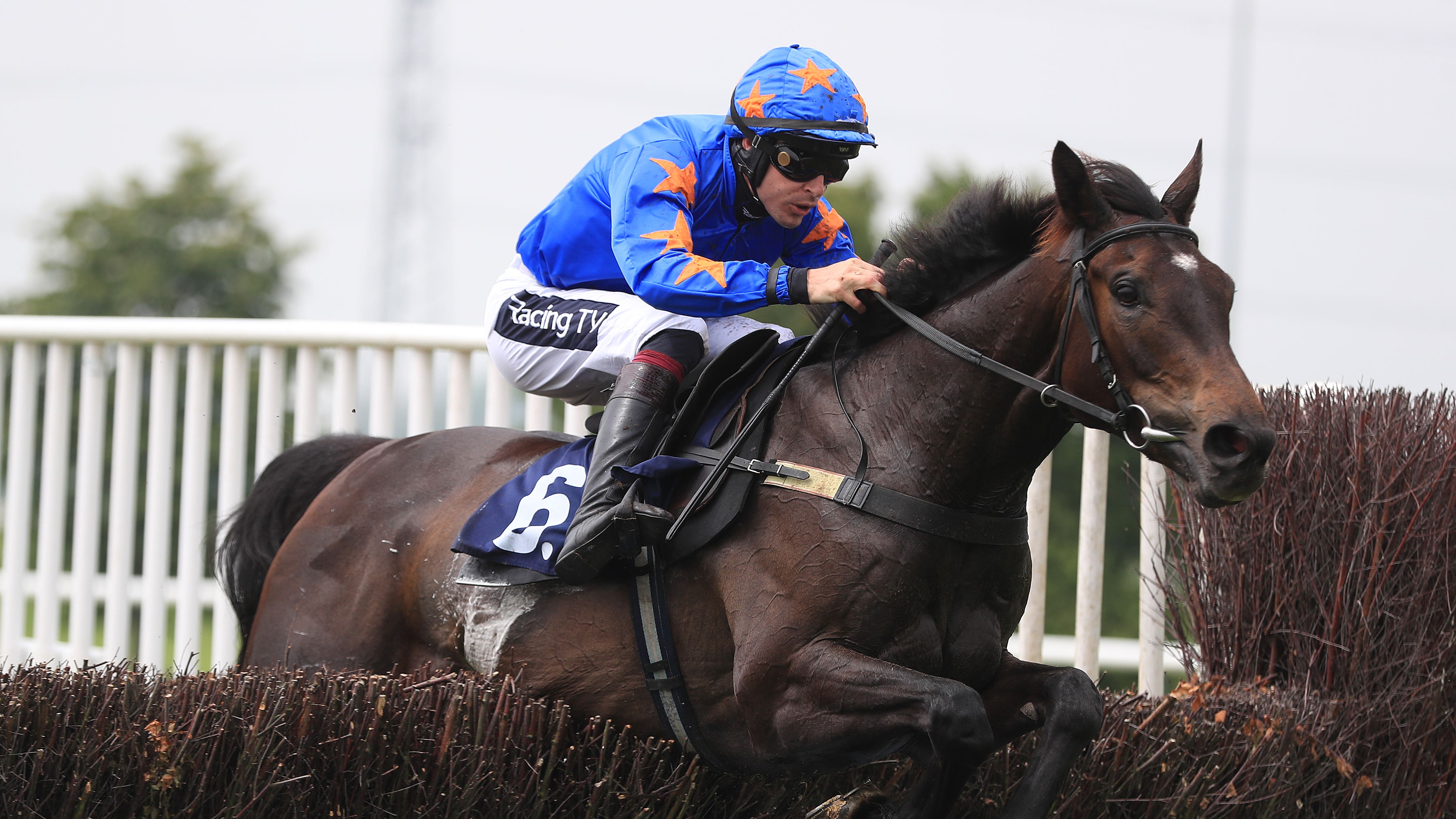 The Jam man has earned £46.000 in prize-money, and thus far £36.000 of that money has been gained during McNally's tenure speaking about his stable-flagbearer McNally stated;" The Jam man is for sale at the right price, but I wouldn't mind holding on to him as he is only a six-year-old and is improving all the time. My son Kian came out with a cracking line the other day on television – "Come on JP McManus give us a call" Joked McNally.
McNally has seemingly worked miracles on The Jam Man; from there he has found to some extent a new-found fame with the media, he has taken part in countless interviews since the so-called gamble was landed, everyone longing to find out more about this astute Co. Armagh based handler; how has McNally responded to this level of intrigue surrounding his small-time operation?
"I don't think I've any new-found fame to be honest, I just carry on as normal. I'm a level-headed sort of guy and keep myself to myself. I'm thrilled to be in the limelight nevertheless I wouldn't be getting carried away, its business as normal as far as I'm concerned. Yesterday's results don't win tomorrows races" insisted McNally
As well as being rising star of the training ranks McNally also has somehow the found the time to set-up successful kitchen fitting business, which is striving; "The kitchen business is my bread-and-butter. It can be hard from time to time to keep on top of both professions. I have an exceptional team behind me that supports me at the yard; which makes it possible to juggle both jobs. My two sons Kian and Tiernan are a god-send, they put in serious graft around the yard, alongside my understanding wife Sheena who helps when she can; a big mention has to go to my dependable employee Niall McAlinden, he mixes it up with the kitchens and the horses, whenever I am unable to be somewhere, he steps up every time without any hesitancy, also my reliable yard staff Rory and Rebecca are worth their weight in gold for the effort they put in keeping everything ticking over",
When questioned about his forthcoming plans and ambitions for his humble stable, McNally replied;
I'm enjoying what I'm doing, I keep my team of horses small and only keep the ones that have the potential to win. I've no interest in having a yard full of moderate horses and just going through the motions with them".
McNally's son Kian is a familiar figure in the parade ring when one of his horses win, sporting the protuberant silks of his father; what does the future hold for this young man destined to follow in the foot-steps of his old man?; "My son Kian, or Tubs everyone knows him as, really does have racing in his veins, he's fixated on racing and riding. He's rode eight winners to date on the pony circuit and loves every second of it; My other lad Tiernan although he doesn't ride, but does all the hard work around the yard and comes racing to lead up on a regularly basis; it's a-dream-come-true to have the two of them so interested and It drives me on further in the sport, I'd say the future of the McNally name being in horse racing is almost guaranteed" mused McNally.
We couldn't let McNally go without him giving our readers a horse to follow; he quickly replied; "Feagh Rua is a 4-year-old old Dylan Thomas sired horse I have, He was ready to run in point-to-points last spring, but I put him away to strengthen him up further and have him back in training this week, he works really well, and I'd be hopeful that he has a massive future from the signs he has been showing me at home.
For every two minutes of glamour, there are many months of hard work. Armagh native Ronan McNally is a trainer to note for the future. His horses aren't there to make numbers, winning is the only intention.