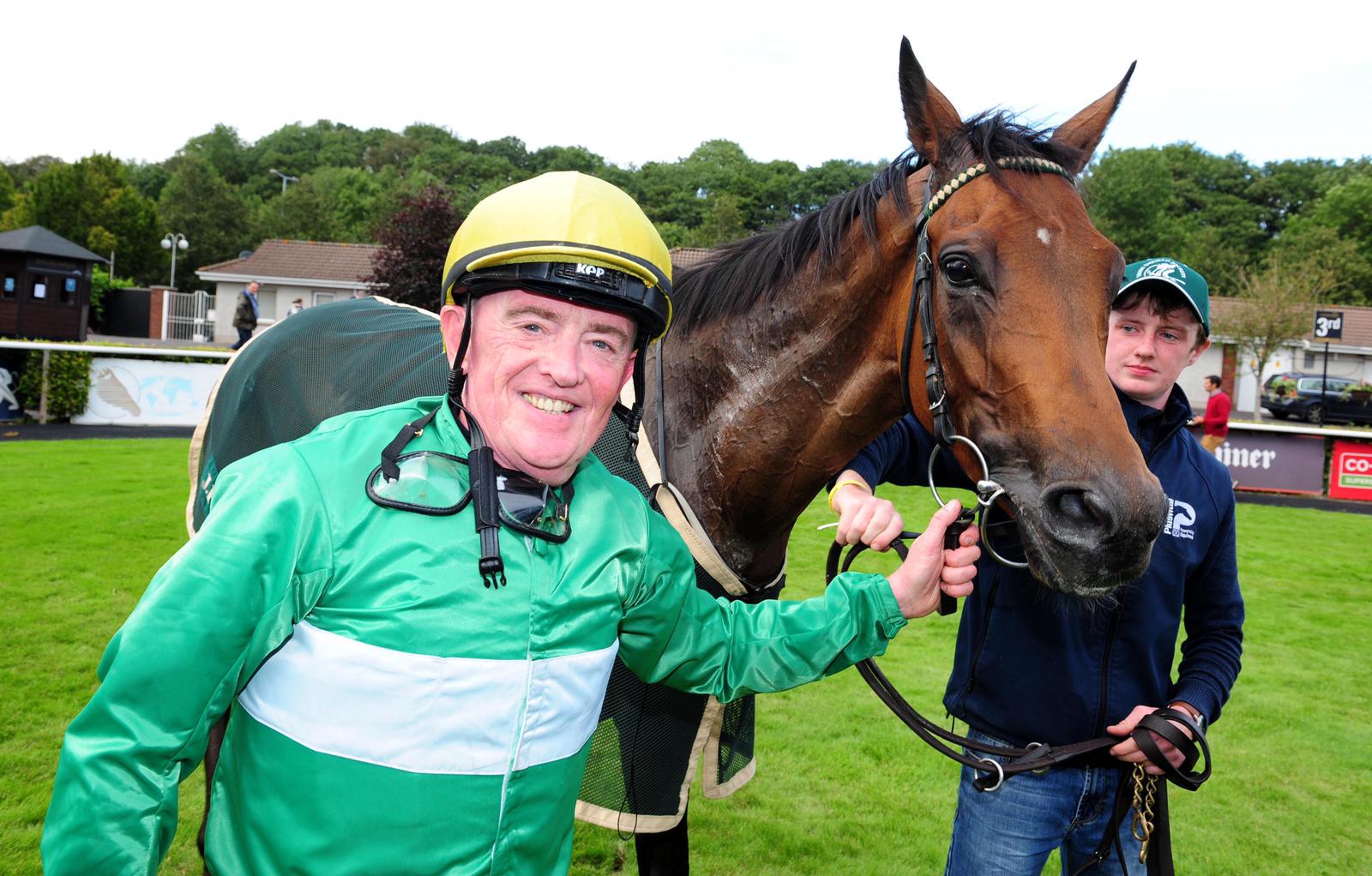 A field of thirteen riders went to post for the second leg of the popular charity race series, The Corinthian Challenge at Cork Racecourse Mallow on Sunday. This is the fourth year of The Corinthian Challenge for Irish Injured Jockeys (IIJ) though, it's the first time the series has included a race at the County Cork track.
Paddy Woods from Julianstown, Co. Meath is no stranger to The Corinthian Challenge as this is his third time taking part in the charity race series and the first time, he has been first past the post.
Woods adores racing and has several horses in training, in fact, Dalileo the horse he won on is his own horse trained by Johnny Murtagh where he rides out a couple of mornings every week to maintain race fitness.
We had the pleasure of an exclusive interview with Paddy Woods; to get the low-down on this memorable victory for the Meath man.
Tell us about yourself?
I'm 55, live in Julianstown Co Meath with my Wife Ninki and kids, PJ, Rory and Annie. I started off my working life as an apprentice to John Oxx in 1982 and knew early on things weren't going to work out as a jockey and John suggested the National Stud Course and which I completed in 1984. After some time working in Stud Farms in New Zealand and Canada and a stint with Richard Galpin Bloodstock in Newmarket, I returned home and changed career. I'm involved in a company called Phonovation who provide a range of mobile technology services to Banks, Retailers, Utility Companies and TV stations.
I've a couple in training with Johnny Murtagh and ride out some early lots 3-4 mornings a week. I enjoy the whole thing of riding out in Johnny's and especially the people in it. Like all racing yards you wouldn't want to be sensitive as a bit of well-placed stick is dished out by the crew in the yard.
I'm currently having a lot of luck with my horses with Johnny. He has this fantastic instinct to get into the heads of the horses he trains and knows each one's ability whether its rated 45 or 105 and gets the most out them.
What made you get involved in the charity race?
The Corinthian Challenge gives a rider the opportunity to experience what it's like to ride around some of the best tracks in the country, have adrenalin fuelled experiences and raise money for a great cause such as the Irish Injured Jockeys. It's a no brainer really!
You were well out the back & then you decided to make headway; what was your thinking?
My thinking was, 1) I am about 10 places from where I'm supposed to be and 2) Johnny (Murtagh) is going to give me an earful so I better do something about it. Lucky enough Dalileo had the ability to make up the ground.
Hitting the furlong pole what were you thinking?
I was waiting for something to come up sides and challenge me and I just kept looking for the finishing line. Any idea I had about keeping tidy in the finish went out the window and I just went for it, but I didn't hit him, so I'm pleased with that.
Have you ever experienced a buzz like it?
It was great. My strike rate in these races is atrocious and to finally ride a winner even though not under rules was fantastic.
If you would lke to donate to this worthy cause – Click Here