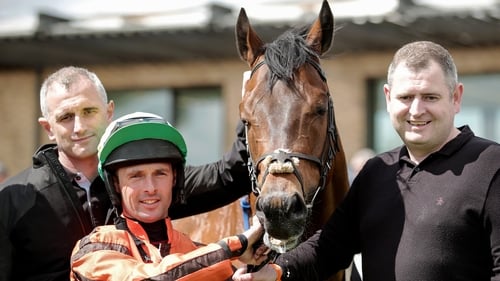 "Winning isn't everything, it's the only thing"; Hilltop racing stables are better recognized on the race-card as simply, James McAuley.
The orange silks of Hilltop racing stables have had a magnificent year at Dundalk stadium; With ten winners, thirteen second placed efforts and nine third placed finishes ; the meticulous team have become the leading owners at the all-weather track with over €137,263 in prizemoney; there is no doubting that this Co. Louth track has become a happy hunting ground for them.
Who exactly are Hilltop racing stables? James, and his brother Stephen McAuley and their uncle Jim Gough make up the formidable team at Hilltop Stables. Their esteemed employee Gerard Duff is invaluable to their effort for success; Duffy pre-trains the horses with James at Hilltop Stables before they go down to Denis Hogan's state of the art horse training facilities in Co. Tipperary.
James Gough's support to Hilltop racing Stables has been paramount to rise in this horse racing owners success story thus far; what does next year have in store for the likable owners?
3furlongsout.com exclusively spoke with one of the main men, James McAuley.
What is the plan going forward for Hilltop racing stables? The plan going forward would be to continue to upgrade our horses. I don't think we actually have any of the horses we had to race on 1st January 2019 heading into 2020. There is plenty of new ones to look forward to.
What are you most looking forward to next year? I'm really looking forward to Hathiq and Sceptical next year. Sceptical's win last month was perhaps the highlight of our season at Dundalk – we only purchased him about 3 months ago for scrap money, I loved him when me and Gerard had him at our Hilltop stables and it was great when he went and justified the high opinion, we had of him so soon in his racing career.
Why did you select Denis Hogan to be your trainer for your string? We have always got on extremely well with Denis, back from when I trained horses and Denis rode a few for us, even when we had no horses in training with him, he would never pass by without talking to us. At practically every sale we attended either he would have been underbidder to us or us underbidder to him, so we always liked the same type of horse. He has a brilliant bunch of staff and two very good jockeys in Joey Sheridan and Joe Doyle; Both are underestimated, and I can see a big year for them next year all being well; they have our support either way.
Tell us all about your star stable-bearer Yuften? He actually came straight back to Hilltop Stables after winning at Dundalk the other night, so he will have a couple of weeks off and then we will see where he is at. It's rare that I'd admire a horse that we don't own but he always got my attention when running so we decided to take him while on holiday in Florida and touch wood he has been a superstar for us. It will be a long time before he defends his title as the claiming King, we will stick with handicaps and conditions races for a while; we are not chancing losing him to someone else – read the story of how James acquired Yuften; click here
What are the plans for Hathiq and Sceptical next year? They have both had wind surgery since they last ran so we would be confident that they can step forward next year; both are equally very exciting prospects.
Highlight of the year? Hathiq winning at the Curragh would unquestionably be the highlight of our year in 2019, he seemed a group horse in the making, sadly his wind had been getting progressively worse, so with a bit of luck we have ironed out that problem out and he can go on and fulfil his potential –  He is a very smart horse going forward; I wouldn't swap him for anything.