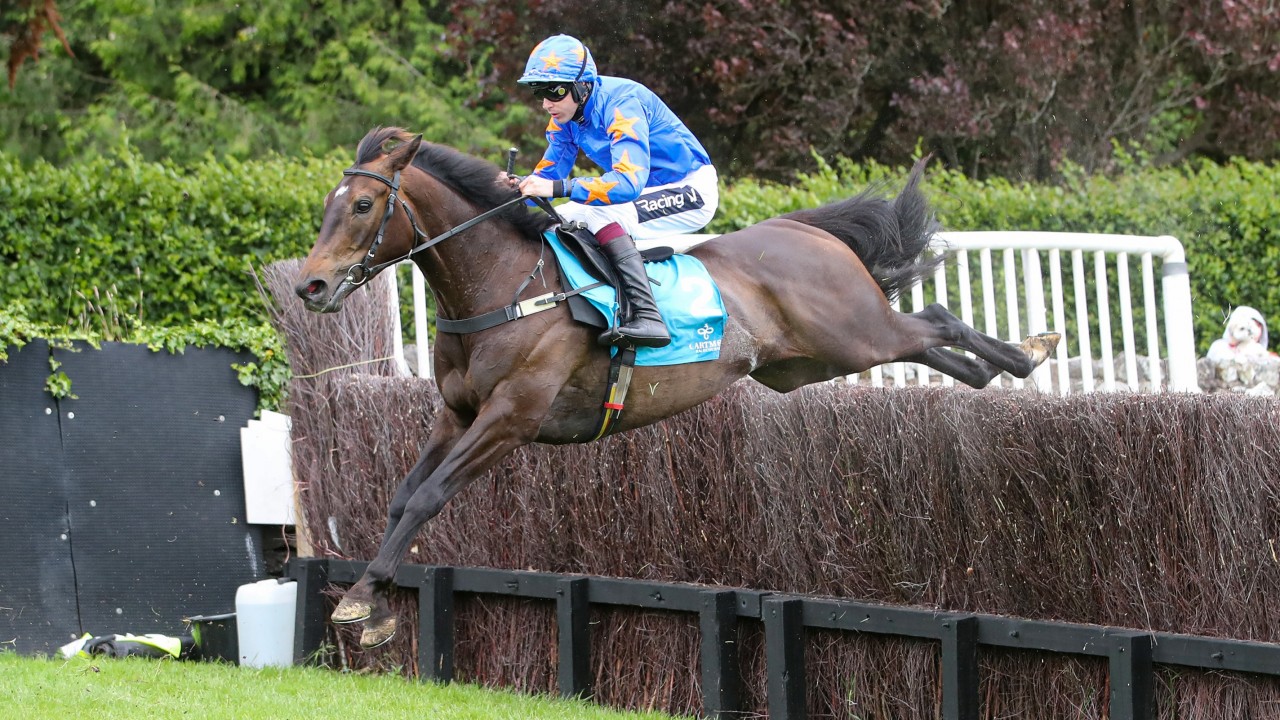 County Armagh trainer Ronan McNally was represented at the Cheltenham Festival last week by his stable star The Jam Man.
The courageous seven-year-old failed to get involved in the finish yet he was definitely not disgraced in finishing ninth place in the ultra-competitive Grade One Paddy Power Stayers' Hurdle. McNally also runs a kitchen-fitting business, he is assisted in his day-to-duties by his sons, Kian and Tiernan – without their assistance it would not be possible to keep everything ticking over in their yard; it's a real family affair for the McNally's.
The Jam Man's rise to grade one company has been nothing short of astonishing, although very much a David versus goliath assignment in the Stayers Hurdle last Thursday though McNally is not dejected by his courageous ninth place effort, insisting to us; "Everyone wants to have a runner at the Cheltenham festival. We've small number of horses in training but that's through choice: we concentrate on what we have and to be in the position of having a runner at such a high-profile meeting is something I'm very proud off.
McNally then added; "I really enjoyed every part of the Cheltenham festival experience, without putting any pressure on myself or the horse – He came back none-the-worst of the run, so I see it no harm done, and if I was going to make an explanation for not getting closer to the action, I'd say the 'ground' wasn't to his partiality, so for him to run that well – I'm thrilled".
The Jam Man has won nine races and in excess of £100,000, so his trainer's decision to run him at the Cheltenham festival was well placed.
– but connections were always mindful they did not only have to climb the Cheltenham Hill but must also overcoming more experienced Grade one adversaries – though at this stage of his career The Jam Man owes McNally absolutely nothing, speaking of his feat McNally insisted; "He's won six races for me and he's only seven. I bought him for €10,000. The fella that owned him was tragically killed in a car accident, he was a close friend of mine and that's how I ended up buying him – it's a fairy-tale story that keeps on giving".
It is well documented that The Jam Man is something of a local celebrity by the punters in-and-around Newry and Armagh area predominantly because his trio of well-supported handicap wins in Britain last summer – the punters have been in 'clover' having a bet on McNally's flag-bearer. Taking into consideration he the bulk of his successes were attained when on a more lenient handicap mark of 80 to 94, truly validates his headway through the ranks – horses like him don't come around too often.
McNally said, "Everyone in racing always says don't be afraid of one horse. It is like doing the lottery, if you aren't in it, you can't win it. "I hadn't even imagined us winning the race at Cheltenham, last week but our lad showed everyone he deserved his place in the line-up, sure there will be more big days ahead on that evidence alone. I am thankful to have a horse of his calibre in my yard; given half a chance I can prepare one for success, I don't take losing too well, fortunately, I win more than I lose. McNally then added; "The bookies had the Jam Man priced up at 66/1 in the betting, he outran them odds anyhow" joked McNally. It is a well-known fact; yesterday's results don't win today's races – Ronan McNally is already planning The Jam Man's return to the winner's enclosures.
McNally has told us he has a 'potentially' exciting five-year-old thoroughbred for sale in his yard that was fourth first time out in a 4-year-old point to point and the 2nd and 3rd both won next time out; A real bumper type that wants a bit of nice ground – could this be the next Jam Man in the making for you?