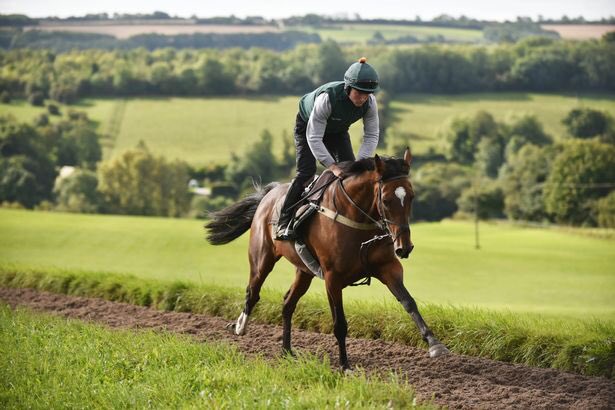 The new breed of talented jockeys are coming through the ranks, hungry for success and determined to get noticed in the competitive sport were winning means everything.
Liverpool born conditional jockey Joe Anderson is based with trainer Nigel twiston-Davis. He has a capabilities and know how to go far within the industry. You will be hearing plenty about this gifted young jockey in the imminent future. We caught up with Joe to find out all about him.
Tell us all about yourself?
My name is Joe Anderson, I'm 22 years old, originally from Liverpool but have lived in the Cotswolds for the last 3 and a half years working for Nigel Twiston Davies. I have spent the last few seasons riding point to pointing and recently turned conditional.
How much are you currently claiming?
At the moment I am currently claiming 10lb for the boss and 7lb aboard any outside rides I get.
How did you get into horse racing?
Having not come from a racing background I got into racing through sheer luck more than anything else. As a young lad I used to spend a lot of time at my Grandmas house, where my uncle also lived. He was and still is absolutely mad on his racing. I used to spend all my time after school watching live racing and old racing replays from years gone by, and ever since I can remember that's all I had my heart set on, being a jump jockey. So, when the time finally came to leave school, I applied for the British racing school in Newmarket. Having never sat on a horse until that point the challenge seemed very daunting but looking back, I wouldn't change it for the world.
Favourite racing memory and horse you wish you got to ride?
My favourite racing memory would have to be watching Kauto star regain the gold cup. Although a massive Denman fan personally, to see Kauto roar back to form and destroy a quality field was a sight to behold. One horse I would've loved to have had a go on would be Hurricane fly. The way he jumped and travelled with such ease makes him stand out for me.
What does your general day-to-day consist of doing?
Full time at Nigel's I would probably arrive on the yard at around 5:30am. There I have my 5/6 stables to muck out. First lot pull out at 7:30am. There we usually ride 4/5 lots depending on who is about. In after riding out to sweep the yards, and make sure they're all fed and rugged up and finish anywhere between 11-11:30. Evening stables is 3pm till 5pm where we muck out again and brush over our horses.
What is it like working at Nigel Twiston-Davis yard?
Working for Nige is great. He is a very fair boss, if you work hard and show that you are eager, you will be rewarded. I am very lucky to be riding some top quality horses day in day out and that helps your riding and confidence in yourself a lot, even without realising.
Do you have a personal favourite horse in the yard?
My favourite horse on the yard would be Wholestone. I have looked after and ridden him every day for the last couple of years. He is a multiple grade 2 winner and placed in both the Aintree and Cheltenham stayers hurdles last year. What I like most is his attitude, although not very big he is awfully tough, and that counts for a lot within itself.
What are your goals for the season ahead?
My goals for the season ahead is to just get riding as much as possible. Try to establish myself both in and out of the yard. I'd like to ride out my 10lb claim this year.
Will you be hoping for some rides at the upcoming Cheltenham festival?
Time will tell but I'm hopeful, we're very lucky that there are lots of horses classy enough to make it to the Cheltenham festival.
How do you think Twiston-Davis horse will fare at the festival? Al Dancer appears to be the big fancy in the supreme? What do you think of his chances?
We have some lovely types within the yard and I'm sure that their ultimate targets will be the Cheltenham festival. Al dancer seems a very nice horse, he's done absolutely nothing wrong so far and the way he won the last day at Cheltenham leaves us thinking he would have a right chance.
Is there a lot of pressures being a young jockey and how do you handle online trolling?
Obviously, it's tough being a young lad on social media if one hasn't quite gone to plan. There is plenty of people very quick to jump on your back and criticise; but I find the worst thing to do is take it to heart. I try to ignore it as much as possible.
Away from racing how do you unwind?
Away from racing I love just spending time with my friends, we tend to go the cinema quite a bit which is nice. Takes your mind off horses and racing for few hours.
Give us three dark horses to watch out for?
Torpillo – is making quite the name for himself, seems a nice type with a big future.
One For Rosie – won his bumper at bangor when running very green and his first novice hurdle when beating Glen Forsa at Carlisle. I still think there is a lot more to come from him.
Count Meribel – One I've had the pleasure of doing a lot with. Showed great guts and determination to win nicely at Cheltenham in November, although not going to plan last time I still think you haven't seen the best of him.
Please give Joe a follow on twitter by clicking here