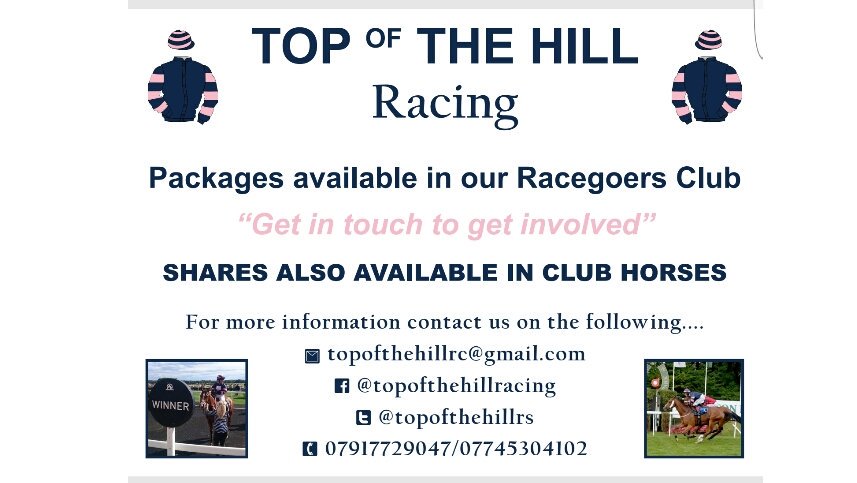 We recently caught up with progressive and affordable horse racing syndicate Topofthehill racing. 
---
Tell us about your syndicate?
We are Topofthehill Racing. At the moment we have 2 horses Archipeligo and Super Florence. We recently sadly retired Vercingetorix. Our club involves offering syndicate shares in our horses and we also run a Racegoers Club which gives people the chance to get that owners experience for an affordable annual membership fee
Follow on twitter now – @topofthehillrs
---
How did you start up?
We owned Archipeligo initially and were thinking about how we could get costs down. We put a plan together, started the club and it's been great so far.
---
What makes your syndicate different?
We think it's different as it offers a full owners experience through part shares running alongside members who join the Racegoers club who can get a bit of that owner's race day experience too.
---
What is the plan for the future?
The plan is to acquire more horses and grow our membership. This doesn't happen overnight obviously as we want to make sure the horses we buy are right for the club. It's important to get value for money but it's also important not to just buy a horse for the sake of having another horse in the club.
---
Favourite horse?
Obviously Archipeligo . He won 3 times and placed 5 times for us in 2017. Great start for our club to have such a consistent performer.
---
Favourite racehorse?
Personally, it's got to be York, best all-round course in the UK and Chester is a close 2nd.
---
Long term aim?
Hopefully with more, better class horses and have a good steady base of members. It's important to always look onwards and aim upwards.
Topofthehill twitter page below