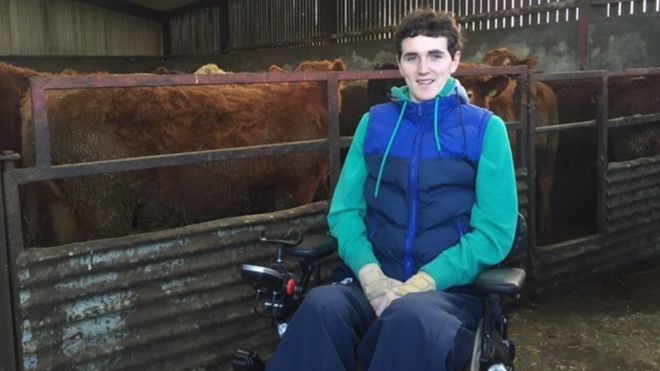 Some people like surprises. Me however, I'm not a big fan. When I go to sleep on a Sunday night I like to have a fair idea of what my Monday will involve.
Being from a horse and farming background, this isn't an ideal mindset but most of the time I convince myself I can squash even the animals into a routine that suits me. Monday morning, chair in fifth gear and almost on autopilot, my dad and I headed for the Cattle shed where a calf was pottering about the slats 2 weeks ahead of cue. Healthy and a super pedigree heifer calf, that's a great start to calving even if it was unexpected.
Bellshill won last Saturdays Bobbyjo Chase in probably as nice a fashion as you could wish for. Entries in the Ryanair at the festival and both the English and Irish National suggests trip mustn't be an issue. He is another classy individual to progress from the Wilson Dennison/Colin McKeever team at Loughanmore and finished 2nd in his only point to point start. Interestingly Shaneshill, Briarhill, Yorkhill and Bellshill all learned their trade in Loughanmore before all going on to carry the gold and black silks of Andrea and Graham Wylie. Between them they've won 33 races pocketing almost £1.1m in placed and win prize money. That surely must make for a happy owner.
Last Saturday I was delighted to have Adrian Mcgoldrick coming to visit. Being the Turf Clubs chief medical officer, when we see Jockeys being bounced off the ground it is Adrian and his team who scrape them back up and assess the damage. But even when the injuries are more serious and long term he is always there to help.
He has been a massive force of support since my fall in 2013. Optimistic and forward thinking, his views are so different to many others I've met along the way and I know for one, I thrive of that. We have some great discussions about the possibilities of new treatments and technologies that could be achieved for spinal cord injuries and neurological conditions. He shares my views that the conventional ideas of life with a spinal injury can be defied and after my first Ekso Skeleton demonstration, he assured me this could be a massive maintenance tool for me. How right that turned out to be!
Even if most Jockeys spend their time running away from him, pretending they aren't sore – his expertise, time and thought given to everyone's individual case is appreciated by so many throughout this sport.
"With the 'Pints after the Points' Cheltenham chat scheduled after Saturdays racing it was unfortunate to see point to pointing at Tyrella cancelled. In saying that I'm sure Donal has plan B well under control and sees this as only a minor setback"
The Beast from the East certainly hasn't hit Lylehill like it has in some areas but still frozen water pipes doesn't help anyone's mood. Both as a racing fan and a farmer I'm still optimistic we'll see a nice spring with some heat in the ground. I am wishing time away until four days of the best racing in the world and I'd like to wish everyone a safe and successful festival as many dreams are fulfilled.