We recently caught up with the well-regarded Downpatrick horse trainer Brian Hamilton who was nabbed with the horse racing bug at a very early age of life. His mother and father were heavily involved in their horses, so their son's progression into the game was always high on the agenda.
Hamilton started riding at a local pony club at 5 years old and the love for the game has just got stronger through the years to the extent it just became a way of life for the hardworking man who has built up a reputation of a genuine, no nonsense horse trainer who is in it to win or to sell it if the price is right, in his stables in Ballynoe Road.
Brian has been described as one of the best amateur jockeys to come out of Northern Ireland in recent decades, he rode sixty winners on the track, and one hundred and sixty-three in points to points between 1986 and 2005. He was also champion point-to-point rider on the northern circuit in 2003 and 2004, when asked about his most significant victory as a jockey Hamilton replied with a grin "Winning the Foxhunters race at the Aintree festival in 1994 for trainer Martin Pipe trained 'All for Luck' was a memorable victory and one that I am very proud off".
Hamilton's career as a jockey came to an untimely halt with a bad schooling accident that resulted in the loss of his spleen and serious chest injuries forcing him to retire from the saddle, but he was determined to make a career for himself within the horse racing industry. Hamilton had a brief spell with the Dickinson stable in Yorkshire, before returning home to fortunately get a job as assistant trainer for the knowable and well-respected trainer and breeder Jeremy Maxwell, this undoubtedly gave him a wealth of experience as Maxwell was regarded as one of the best horse trainers of his generation.
While still working for Maxwell, Brian had decided to take a bold move and took out his own training licence in 2001, operating on a very small scale, but he quickly earned great publicity early in his training career through his first benchmark horse 'Amstecos', who was a contender for one of the big novice hurdles at the Cheltenham festival in 2007 after impressive wins in two bumpers and in his first two runs over hurdles before he developed substantial leg trouble which ended his career.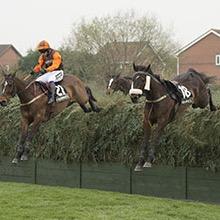 Throughout the years from Brian's humble beginnings there have been plenty of victories to note including winning the Foxhunters with the prolific pointer 'Warne' who was Formerly trained by Eddie O'Grady, Warne suffered a leg injury which could have put an end to his career in racing but horse was acquired by Ballygowan man Peter Magill, a close friend to Hamilton who cautiously nursed him back to full fitness over an 18-month period and himself and Brian really got him back to full health and some would say better than he ever was, though the horse was sold days leading up to the big race to the Waley – Cohen family, it thankfully remained in the care of Brain and it ran out an easy winner of the 2 mile 5 furlong race over the famous Grand national fences. Another notable horse that passed through Hamilton's yard is the talented  'Definitely Red', who was a winner for Hamilton at the Loughanmore point to point venue then was sold for an impressive £110,000 to owner Phil Martin and trainer Steve Gollings.
There have been plenty more decent horses passed through his ever-expanding yard in Downpatrick including Moscow Mannon, Honey Bach, Wither Hills to name but a few, Brian adds to the conversation "Racing can give you plenty of disappointments so when things fall into place it's a great feeling for everyone associated with the horses, the aim is to win and we always try to get the best out of our horses as they are our main priority".
Most days, Hamilton starts at 7am with the general yard duties including mucking out, getting the horses ready for the gallops and liaising with owners, alongside keeping his hardworking staff on their toes, then he adds to the discussion "although my day starts at 7am most days I don't finish until never o clock, there is always something to be at but I wouldn't have it any other way".
We asked Brian this important question, "The horse racing game is usually called the sport of kings due to the money involved in it and the likes of Gordon Elliott and Willie Mullins who have the millionaire owners behind them for extra support and sustainably, but with smaller yards like his does it make things harder?" and he replied "Yes it's harder but this game keeps going round and there are different winners to be had every couple of years unless you're Willie Mullins" he joked "but my motto is, surround yourself with successful people and if you're any good and lucky enough you will eventually win".
This past few years, the initials of B.R Hamilton have become a formidable sight in the winners' enclosures at both his local tracks of Down Royal and Downpatrick, he adds to the conversation "they have both been very lucky tracks for me and I really enjoyed riding around Down Royal and now that I am training, whenever I can, I try to have a few runners at the local tracks to support them and give my local owners a good day out".
With being a hands-on trainer we put the question to him "how does relax outside racing?", and he replied with a smile "I seldom get the time for much else other than horses as I am normally kept very busy but one thing I really enjoy is a bottle of wine on a Sunday afternoon with my family in Curran's Bar in Ardglass, it is a lovely way of relaxing and preparing for another busy week ahead".
Keeping an eye on any horses from the County Down stable is a must, as this trainer has big ambitions for the future.