16-year-old Jack Wildman from Salisbury has been riding out in Gordon Elliott's yard for the past few summers and is now with the Co. Meath trainer full-time since last July.
Wildman attained his first racecourse success on only his third ride on Kuraka, who defied top-weight in the Breast Cancer Ireland Apprentice Handicap at Leopardstown a few months ago.
This determined young man grasps he will have to prove his ability further at Elliott's yard however he knows he is good enough, so everything will fall into place with hard work.
We had the pleasure of an exclusive interview with the young rider. You will be hearing a lot more about him in the forthcoming months.
Tell us about yourself?
I am from Salisbury, in England. I have always been interested in racing as my father trained and was a jockey, also my grandfather was a good jockey. I have ridden from the age for 7 or 8. And always wanted to be a jockey. So, I started riding out at the age of 12 for my local trainer.
Most memorable moment in racing so far?
My most memorable moment so far was my first winner (Kuraka) at Leopardstown for my Boss Gordon Elliott, also to make it extra special the owners are friends of my parents. That victory was my only winner to-date however I am hopefully for more success soon.
Favourite track?
My favourite track would have to be Leopardstown, as I have been successful here and it's a very fair racecourse.
Plans for the season?
My ultimate plan for the season would be to improve my riding as much as I can, hopefully then I can ride more winners, which will lead to getting more opportunity. I'm hopefully that I can remain injury free, and I can get the chance to prove my worth in the saddle.
Do you feel pressure when riding?
Of course, if you didn't feel pressure I think there would be something wrong, I tend to just try to stay focussed and obtain the best possible position every race.
What is it like working at Elliott's?
It's a great place to be working. Elliott has been very good to me and I can't thank him enough for this unbeliavable opportunity to work alongside his world-class team.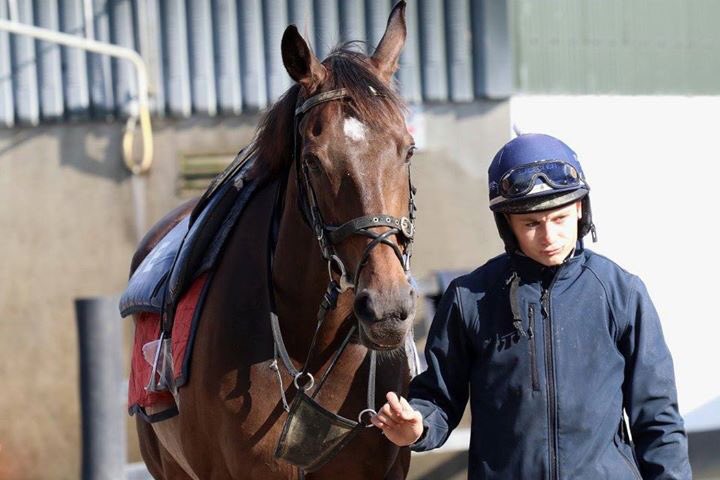 Give us a few horses to follow?
A few horses to follow would be Black Tears who would be going for maiden hurdles as she's a reel progressive filly with lots of ability. Clashanishka who was 4th in a competitive maiden in the Curragh he will be one to watch for the rest of the season.
How do you deal with internet trolls?
I deal with internet trolling by just ignoring them, I think there a waste of time and try not to let it get to my head.  You can only do the best of your ability, sometimes mistakes will be made however trolling is not the way to sort things out.
How do you unwind outside racing?
I like to go and play golf which I would like to add I'm not great.  Also, if I have a chance I enjoy just relaxing at home with a few of my friends.