Hello and welcome to the next edition of Getting To Know You with Neil Watson.
For today a bit of role reversal as I sent my questions to the well-known and respected interviewer Simon Nott author of Skint Mob Tales From The Betting Ring.
Simon has become popular through his excellent interviews with racing people from jockeys to journalists and trainers, photographers, commentators and racing gamblers as he gets them to chat about their lives in the game for betting company Star Sports for whom he also does blogs for at race meetings throughout the calendar year
Music also features heavily for Simon and many reviews can be found on his site www.simonnott.co.uk which is worth reading.
Favourite racecourses?
Newton Abbot
Exeter
Taunton
Cheltenham
Newbury
Favourite racehorses?
Provideo, trained by Bill O'Gorman, ridden by Tony Ives won 16 races as a 2yo – just when I was getting into racing.
Reve De Sivola – part owned by my good mate Andrew Mount and trained not far up the road by the 'Genius of George Nympton' Nick Williams.
Favourite race meetings?
Nothing can touch the Cheltenham Festival
Glorious Goodwood, usually the best weather and most relaxed of the festivals we go to, plus I love dressing up so can dig out clobber I couldn't get away with wearing anywhere else.
Favourite trainers and jockeys?
I think Lizzie Kelly and Bryony Frost bring something special to the table. I recently had the pleasure of interviewing Jason Watson who rode 110 winners when running away with the apprentice title, he seems a lovely chap. I shall be following his career with interest. David Pipe, Nick Williams. Fergal O'Brien.
Favourite music acts?
I love old rockabilly from the 1950's and still spend too much money collected CDs full of obscure music most people haven't hear of.
Back in the 1990's I used to drive bands around, The Frantic Flintstones the main one, they are no longer going but my other favourites and long-time mates The Long Tall Texans are, I've written sleeve notes for them. They played at my 30th and 50th birthdays, plus my wedding, they just have to outlive me now!
I also love American pop punks Green Day and Australian rockers The Living End, I had the pleasure of travelling on their tour bus for a week in California back in 2006, I was an 'embedded journalist' and wrote for two magazines in Australia and one in England on the tour. They are huge in Australia but pretty much under the radar here.
Favourite post-race pubs?
The Mount Pleasant Inn – Nomansland in Devon, it's nearly home for me, it's a proper country pub with roaring fires, great food and has a corner where people drink and talk. It's not a racing pub as such but they have sponsored the maiden at the Tiverton Foxhounds Point to Point for decades and talk is often of racing.
Favourite journey to a racecourse?
I don't do it often but Newton Abbot on the train.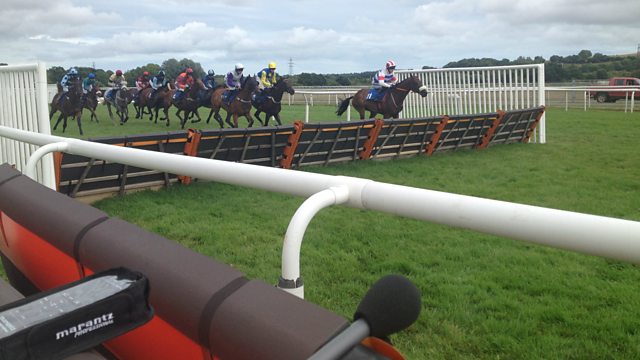 Favourite place for a breakfast?
Home
Favourite bands you'd like to see play a racecourse concert?
I think the huge names, not particularly my taste but they get people in racing.
Favourite biscuit to go with a brew?
Ginger Nuts but not too many I'm always worried about my weight and I'm still too heavy
Favourite sports teams?
I have 'supported' Sunderland since I watched the win the FA Cup on TV in 1973, it was the first match I ever watched and went for the huge outsiders, I had an even 10p with my mate (the worst bet ever) I'm still waiting for him to pay.
I used to love watching Exeter Falcons speedway on Monday nights as a young teenager.
Favourite movies?
Wild At Heart
True Romance
The Girl Can't Help It
Favourite comedies?
Only Fools and Horses
Favourite ways to unwind outside racing?
I love the beach in the summer, spending time with my family and going to gigs.
Favourite race of all time?
Dawn Run's Gold Cup 1986
Favourite interviews in racing and music?
I really enjoyed talking to Peter Freeman, blind since birth, studies form in braille and swam the channel in relay with his two bling brothers.
I have interviewed some lovely old guys, some no longer with us, Sonny Burgess the Arkansas 'wild man'. One of the most aew inspiring was with drummer WS Holland who played on the original Carl Perkins 'Sun' recording of 'Blue Suede Shoes' and went on to play with Johnny Cash for 30 years. Most recently I interviewed all three members of The Stray Cats, long time heroes of mine.
17, Favourite places to go for a feed?
The Kings Arms in Georgeham North Devon is nice, just off the beaten tourist track of Croyde.
Favourite town and cities?
I spent six months in Sydney Australia and loved it there.
Favourite race you wished you had been on course for?
I've written about a race that took place at Tiverton Races back in the early 1826 where the big race was run in heats. a horse called Grimace ridden by a jockey called 'Weediniron' was hot favourites. In one of the heats a man is said to have had a huge bet on Grimace. The horse looked certain to win then collided with a marker pole and unseated Weediniron, was it, the man that had to bet was ruined and had to sell his estate to settle up. Pure bad luck or was the dubiously named jockey 'at it'? We'll never know but I'd like to!
Choose your own favourite of anything?
A lovely sunny summer's day at Newton Abbot, we took our three year old last year and she loved it.
The Cheltenham roar, not setting off but up the hill when we are treated to a ding-dong battle.
Putting on an album or CD of old music I've never heard before.
The betting ring.
Many thanks to Simon for taking part, such a rich tapestry of life, racing, music and travelling spread over twenty questions.
Like many I really enjoy Simon's interviews and especially the ones with Alastair Down, Nick Luck and most recently Jason Weaver who have fantastic to listen to.
Thank you for reading this and stay tuned for the next one.
#BettingPeople – https://www.starsportsbet.co.uk
Betting People – our ever growing library of interviews with the characters that make up and shape the world of …