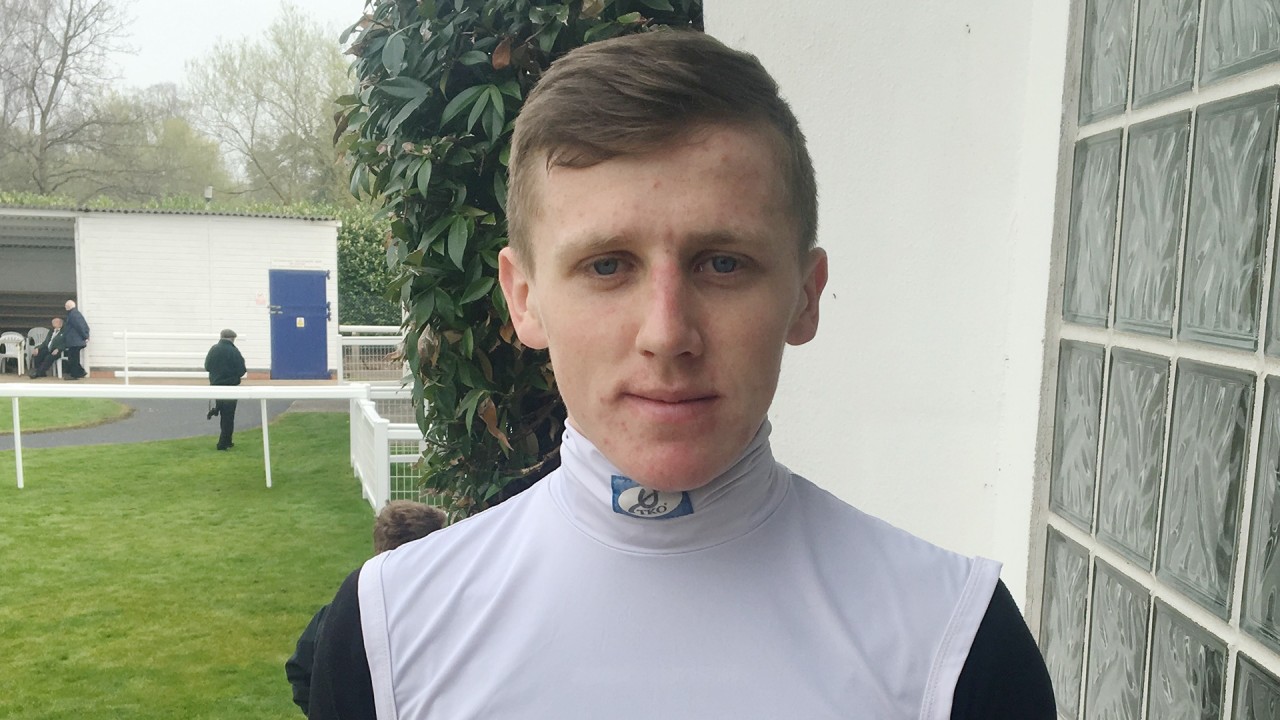 From Maynooth, County Kildare,
Sean Davis
rode his first winner on the Michael O'Callaghan-trained Maknificent at Leopardstown on June 3rd, 2016.
Sean relocated to Britain and joined up with trainer Richard Fahey early in 2019. He rode the first treble of his career at Wolverhampton on July 1 of the same year. He has recently moved back to Ireland and will go freelance this term. He will be exclusively writing a weekly blog for us here at 3Furlongsout.com
---
After riding in Ireland for 3 seasons I made the decision to ride in the Uk, I was blessed that Richard Fahey took me on and gave me the chance he did, I found the jockey lifestyle a lot different over there.
In Ireland the jockeys are declared on their rides 24hours before raceday, it's also rare to have two flat meetings on the same day it makes it a bit for your agent to plan your week.
My race day in Ireland was fairly simply thankfully I'm light and it would be rare that I'd be wasting so I'd be able to have breakfast and head into the stable that I worked for, at the time being Ger Lyons and you'd have a certain amount of lots to ride, the amount would depend on where you were riding that day so if it was local meeting you'd have time to ride out the full morning, after riding out id usually get the Racingpost and head home to get changed, having a bit of lunch I'd go threw my rides and Mark up the paper, making notes of where the pace would be and also where the Fancied runners were drawn and what I thought they would do therefore I'd try and make a plan as to where I felt I should sit in the race. My close friends in the weigh room in Ireland are Gary Halpin, Colin Keane, Robbie Downey, Oisin Orr and Dylan Hogan would've been riding in Ireland at the time also so depending on what time we were riding at we would share lifts and meet along the way to save the driving, id imagine on average our journeys throughout the season would take 2 hours to get racing (Killarney, listowel or Sligo were 3or4hr). We'd usually arrive at the race an hour and a half before our first ride, some of the lads would go for a sweat (Robbie downey) and others would go and have a walk of the track to see what the ground is like and if there is any part of the track that appears to be riding different to the rest, trying to find an advantage on your rival.
You have to be very sharp riding in Ireland, opportunities to ride winners as a young rider can sometimes be far and few, it's also very competitive in the professional ranks so every rider is very much out for himself, if you want to get a nice position at the front end of the field you'll have to be quick because you can be guaranteed your not the only jockey wanting that position. There is also a lot of talented trainers in Ireland, some train less than 20 horses others train 50/60+ but in general they can compete with each other at most levels, so when one of the trainers with less horses finds an opportunity for their horse to win it's important that the jockey is on the ball and gets the job done as there might not be the same opportunity for that horse to win for some time, that's also why it can be difficult as a young rider looking for the chance as the trainer is relying on his jockey not to make mistakes.
Due to the competitiveness on the track, the weigh room can be a daunting place for a young rider coming up the ranks, the jockeys you once looked up and seen as your idols now see you as competition and at times a senior rider may try and intimidate you and take your position in a race to benefit themselves, you'll find you have to learn to hold your own and stand up for yourself while also respecting the senior jockeys.
The Irish are held in high regard in the racing world, a lot of top jockeys around the world are Irish and in my opinion some of the points I made above contribute to Irish jockeys riding to a high standard, like I said it's competitive in Ireland and you really have to ride to at a top level to get winners.
I'm glad i began my career in Ireland and I think it benefited my riding massively, I think I had a great grounding and it set me up to be able to ride competitively in the Uk.
"I moved to the UK on the first of December and had my first ride for Richard Fahey at Newcastle at the beginning of February"
The day of my first ride I rode out the full morning at Musley Bank and felt I'd still be giving myself plenty of time to get racing, Richard then noticed I was still at the yard for last lot and advised me to give myself more time to get racing in future, I soon learned why he had told me that when the motorway was at a standstill for 40 mins on the way.
The season then begun at the beginning of April and my daily routine changed a lot, I spent a lot less time riding out and a lot more time on the road. Robin O'Ryan is the assistant trainer and is a massive part of the team he would organise that on a Wednesday morning we'd start earlier at the yard as the 2-year-olds would get brought away to the Grass gallops at 6.30, we'd arrive back to the yard at 7.40 and I could have only another 2 lots and be heading home at 9 o'clock to go racing, I'd try and make time to mark the paper and plan my rides before I'd ring the boss but I struggled to find the time and would be relying on using racing apps on my phone, also I was having a lot more rides than I would've had in Ireland and 2/3 times a week I would ride at 2 meetings a day, Niall Hannity is my agent and we are in regular contact discussing upcoming meetings.
MR FAHEY
He has a big team of horses and would have runners at either end of the UK at any given day, the main two jockeys in the yard are Paul Hanagan and Tony Hamilton and other jockeys who would be in the yard on work mornings and ride for the stable are David Nolan, Jack Garrity, Paddy Mathers, Barry McHugh and Conor Murtagh,
There could be 5 meetings on a Saturday and Richard would have runners at nearly all meetings, so Paul and Tony would usually ride at the meeting with the better Class racing on and the rides on the others would be divided between the rest of us, you could be riding at Hamilton on a Friday have 5 rides and be at Newmarket on the Saturday for 2 rides in big handicaps with light weights, the journey from Hamilton down to Newmarket could take 6/7 hours depending on traffic and knowing you had to claim off bottom weight the next day you'd miss dinner. I'd stay with a friend in Newmarket and ride out for some Newmarket trainers while I was down that way, Usually David Simcock who has been good to me.
Race riding in England is a little bit different than Ireland, the jockeys like to give each other a bit more room and if you're travelling a little bit better than the jockey on your outside they'd usually give you a chance to get out as they know their chance was gone, due to the amount of racing in England jockeys would spend twice or three times as much time racing and in the weigh-room together so that we would have to get on a little better and help each other out where we can as we will find ourselves needing a favour from each other a lot more often.
The whip rules and interference rules are stricter in the UK, if you use your whip more than the permitted level you will find the penalties are severe, the days you spend suspended are days that other jockeys get the chance to win on your rides and you'll find yourself then losing the ride on them horses.
I also found myself in plenty of stewards enquiries due to interference certain incidents that could be classed as race riding in Ireland weren't taken as lightly and to be honest I found their rules fair in that way.
Racing is very popular, and most meetings are very busy, the public love jockeys and you'd have to take a lot of pictures and sign autographs for them which is something I wasn't used to and found a little embarrassing. It's a great thrill to ride a winner at the busy meetings it could be Beverly or Ripon on a Monday but the atmosphere would be electric it makes it a lot more enjoyable to ride and even more to ride a winner.
THE RACING STAFF
All staff in Racing are extremely dedicated and hardworking, but I must say the stable staff in the UK have a really tough job, they work long hours and have to go on long journeys with the horses, they could spend up to 5 hours in a horse lorry but their love for the horses they look after is very admirable and they add to the joy of winning on a horse as it means a lot to them,r, I think they deserve a lot of credit without them there wouldn't be racing.
I really enjoy riding in the UK and love working at Richard Fahey's stable it's a great team effort and a very successful one, with the influence this pandemic has had on our industry I made the decision to stay in Ireland for this season simply because it was hard to know when racing in the UK would be starting back and it's unknown how many meetings will be on each day, it's been hard on everyone since this Virus began and I'd like to return to the UK when everything is back to normal and the industry is back on its feet.